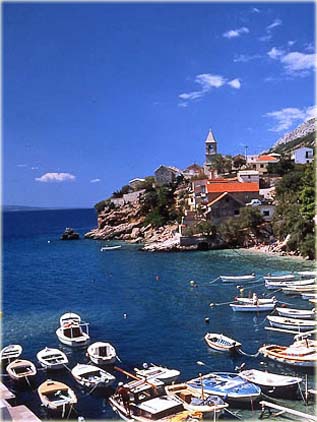 Pisak in Croatia is a small tourist destination on the fabulous Omis Riviera, 16 kilometers south of the town of Omis, 18 km north of the town of Makarska. It is a small, peaceful settlement, once a fishermen's port and now a modern tourist destination. The inhabitants of Pisak are especially proud of the beautiful, crystal clear sea, unspoiled nature and astonishing beaches.
During it's history, Pisak was primarily village of farmers and fishermen. There were two predominant surnames: Fistanići and Kuzmanići, who were living in two settlements, out of which the modern village of Pisak emerged. The group of old houses above the sea and to the east are still called Kuzmanići today. Main agricultural products were olive oil and red wine, which are still grown by local residents and we recommend you taste them when you visit Pisak. Pisak was the most important fishermen's port, on Omiš riviera, primarily due to its location which is across the eastern tip of the Brac island, and from where distant fishing areas were more easily accessible. The second reason was the building of well protected port in 19. century, which gave bigger boost to fishing in Pisak. Today, there is not much left of the local fishing fleet, but many local residents go fishing with their small boats, and we recommend you also to rent some of these small boats, and explore the area of Pisak from the sea, and find your own private beach or small cove.
Pisak lies in a bay and has sandy, pebble and rocky beaches - we recommend it to families with children and water sports enthusiasts who can rent boats, go diving, sailing and surfing. In the evening, you can unwind in restaurants and konobas (local restaurants), and try traditionally prepared fish. When you visit Pisak, make sure to visit Vruja undersea springs, where you will find refreshing, cold, drinking water.
There is a grocery store with daily fresh fruit, vegetable and fish. There are also several coffee bars and restaurants in Pisak where you can try some of the local specialties and enjoy the tastes of Mediterranean cuisine and excellent wine. Due to the vicinity of the towns of Omis and Makarska, the visitors may enjoy numerous active holidays options such as rafting, free climbing, windsurfing or enjoy an unforgettable party in the disco bars and night clubs of the surrounding Rivieras.
Our review: Pisak is the pearl of Omis riviera, definitely the best destination.
Pisak, Croatia is the most beautiful village of Omis Riviera, with old part of the village located by the sea, in a well protected port. With several restaurant and coffee bars, and a well equipped grocery store with daily fresh offer of fruits, vegetables and fish, all located within the walking distance there is no need to interrupt your vacation and even use your car. Located well below the main road, with almost no traffic in the village center, it is a perfect location for families with small children. There are two perfect pebble beaches in the village center, and if you want to explore a little bit, you will find even better beaches, and hopefully your own private part of the coast. It is possible to rent small boats in Pisak, and we advise you visit nearby underwater springs of Vruja. The proximity of Brela, Baska Voda and Makarska is very interesting for those who seek nightlife and mass tourism. For the rest of us, the tranquility, peace and natural beauty of Pisak and surrounding area will be enough to return here, year after year.