History and cultural heritage of Omis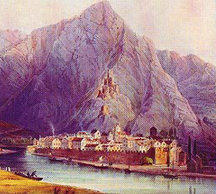 The evidences of proud and turbulent Omis history can be found on every corner of the Omis Riviera. Ancient town of Omis, Omis churches and Omis fortresses are silent stone reminders of the power and the might of famous Omis corsairs.
There are several historic names, including Onaion (Oneon), Holm (Hum), Nestos, Oneum (Onaeum), Olmisi, Olmissium, Almivssium, and Almissa. The oldest artefacts that mention Omis date back to Greek and Roman times.
During the Middle Ages Omis was infamous for its corsairs (pirates) whose ships brought fame to them because they were built for attack and fast return into the mouth of the Cetina River, protecting the town from foreign invasion. At a very early date neighbours of the Corsairs of Omis, the highlanders of the Poljica Principality, became their allies, enabling them to harass the sea trade without fear of a sudden attack by land.
In spite of various alliances against Omiš pirates, including the Pope, Venice, Split and Dubrovnik, it was not until 1444 that Venice managed to capture the old pirate town. It happened owing to the approaching Turkish force that made the amber way dangerous, almost impossible. It also meant the decline of the power of the pirates. Deprived of their prey, they lost their strength and the reason for existence. The danger from the Turks became more and more serious. Yet, despite the fact that they conquered the nearby hinterland, Omiš had never fallen into their hands.
Due to permanent threats from the land, as well as from the sea, the existing fortress "Starigrad" (Fortica), with military crew in it, and supporting tower "Visec" in Cetina River canyon, were not enough for town defence, so, already in Middle Ages, Omis was encircled by walls, fortified with strongholds on the eastern land side, and fortress "Peovica" (Mirabella) on the north-western side.
In the Priko neighborhood, on the right bank of the Cetina River, stands the most important building in the city, the pre Romanesque St. Peter's church from the 10th century. This single-naved edifice, with a cupola and apse, was used in the 18th century as a Glagolithic seminary for novice priests.
Find out more about: