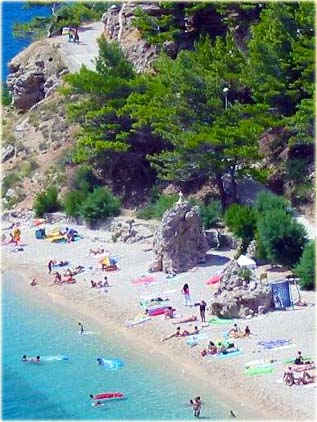 Mimice in Croatia is a typical Mediterranean place with a mild climate, situated in the center of Adriatic, 11 kilometers south Omis. It is located between the mountain Dinara and the wonderful gravel beaches. The monuments from its past, that are found near the church in the old part of this place are the witnesses of its history (more than three centuries old).
In Mimice you will have an opportunity to relax and enjoy far away from city crowds, traffic jams and noisy places. We offer you quiet bars and restaurants located on the beach, a tavern located in Mimice's old part with Dalmatian ambiance and cuisine. Every evening you can taste freshly grilled fish caught by our own fisherman and prepared with domestic homemade olive oil and Mimice's own wine.

Mimice is famous for its two public beaches popular both with children and adults. Shallow waters, hospitable locals, car-free coastline and peace and quiet in the evening are just some of the reasons why Mimice is perfect for a pleasant family holiday. Scuba diving, surfing, going on a boat rides, maybe even spend a night fishing? In case you find this appealing, Mimice and its surrounding area are the perfect vacation spot for you. We can also offer you boat rides on calm sea during beautiful, warm summer nights with organized entertainment.
There are many opportunities for those that seek active holidays and fun. Thanks to the vicinity of the towns of Omis and Makarska, the visitors can, among other things, explore the rich cultural and historical heritage of the surrounding region, enjoy the rafting on the Cetina River, free climbing, scuba diving or windsurfing. For those that seek nightlife and fun, numerous night clubs and disco bars on Makarska and Omis Riviera guarantee an unforgettable holiday.