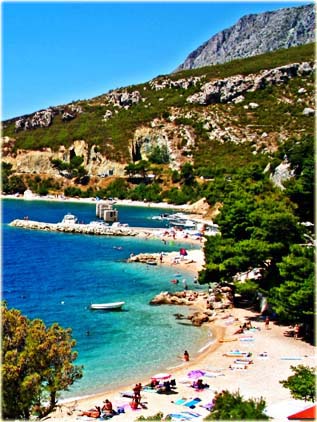 Medici in Croatia is a small tourist settlement, situated in the heart of Omis riviera, 10 kilometers south of Omis and 26 kilometers northern of Makarska. Medici is famous for its numerous beautiful pebble beaches and pine forest that stretches all the way to the sea. Surrounded by olive plantations, vineyards and the relaxing tranquility of this true Mediterranean atmosphere, you will spend an unforgettable vacation and escape the rush and the stress of the modern life.
Only few hundred meters from Medici, in the nearby village of Mimice you can find a grocery store, a post office and several restaurants and cafe bars. There are two famous restaurants in Medici, "VRIČA ŽALA" and "ORION" where you can experience the scent and the taste of the true Mediterranean cuisine. The beaches in Medici are ideal for small children, and for those that seek it, an intimate small beach, a rock or a cave can always be found.
There are numerous opportunities for those that seek active holidays and fun. Due to the vicinity of the towns of Omis and Makarska, the visitors can explore the rich cultural and historical heritage of the surrounding region, enjoy the rafting on the Cetina River, free climbing, scuba diving or windsurfing. For those that seek nightlife and fun, numerous night clubs and disco bars on Makarska and Omis Riviera are the guarantees of an unforgettable holiday.