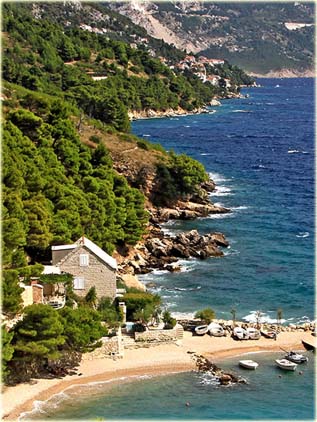 Marusici in Croatia is a nice, quiet place 12 km south of the town of Omis and 40 km south of Split, situated under Omiska Dinara mountain. There are sandy and pebble beaches with shallow waters, ideal for children's play. Marusici is ideal for a quiet holiday in a beautiful landscape: vicinity of Cetina River's canyon, Biokovo Mountain, fertile fields in the interior suitable for growing fruit, vegetables and grapes, as well as magnificent pebble beaches are just some of the reasons why Marusici is so popular with tourists.

Marusici is a perfect place to spend holiday for those who would like to rest after a rush and stressful everyday life in sleepy Dalmatian atmosphere. Here on the cozy stony beaches, below stones and pine woods, where the scent of the sea is mixed with flavors of pine trees and numerous aromatic herbs, hearing sounds of cicadas and music of sea waves - you will rest wherever you have come from.
There is a grocery shop, several cafe bars and restaurants in Marusici. Due to the vicinity of the towns of Omis and Makarska, the visitors may enjoy numerous active holidays options such as rafting, free climbing, windsurfing or enjoy an unforgettable party in the disco bars and night clubs of the surrounding Rivieras.
Our review of Marusici: Fantastic beaches and nature, lacks more tourist offer.
Marusici is surrounded by the best beaches on Omis riviera, and the most beautiful cove called "Borak" is located there, with freshwater spring. If you are looking for bright sun, blue sea and white pebble beaches, this is the place for you. There is not much tourist offer there, no port, only two small snack bars way above the sea, on the main road, and one small shop. Luckily, Omis is just 15 kilometers away to the west, and to the east one could almost swim to nearby Brela, where you can find lots of tourist offer.