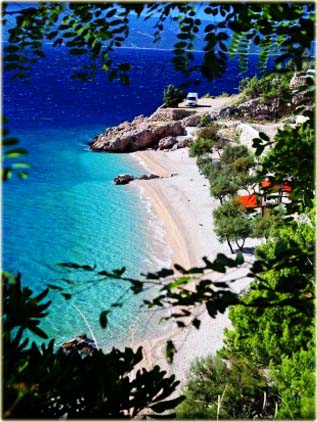 Lokva Rogoznica in Croatia is a small tourist place situated 9 kilometers south of Omis. It is a peaceful oasis with nice houses suitable for those that seek peaceful holidays. Above the main road there is an old village, once the biggest settlement on Omis Riviera, located at the foot of Omiska Dinara mountain. Close to the sea, anew, modern tourist settlement emerged, separated from urban centers and daily rushes, close to sea and untouched nature, an ideal family resort.
The beaches in Lokva Rogoznica and its surroundings are mostly pebble, but there are several sandy beaches suitable for small children. Besides beautiful beaches and crystal blue sea, Lokva Rogoznica is covered with pine forests that stretch all the way to the sea. This small settlement has all makes the pefect family holiday. Near by the family houses and apartments there is a post office, a grocery store, several restaurants and cafe bars. There are also several beautiful camping places in Lokva Rogoznica.
"Fishermen's Night" is the most popular event that takes place in Lokva Rogoznica, in August every year. Due to the vicinity of the towns of Omis and Makarska, the visitors may enjoy numerous active holidays options such as rafting, free climbing, windsurfing or enjoy an unforgettable party in the disco bars and night clubs of the surrounding Rivieras.