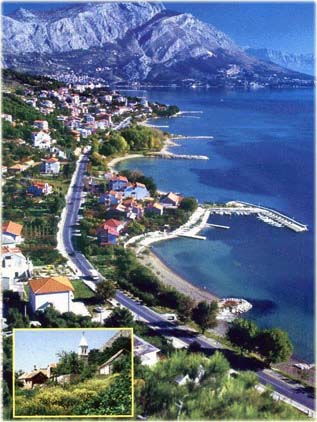 Duce in Croatia is a series of small settlements in Poljica, the area between the foot of the Mosor mountainous chain and the sea. It belonged in the past to the famous Poljica Republic ruled by the Grand Duke according to the decrees of the Poljica Statute. Such a heritage has left an indelible imprint on that place which is proud of its preserved examples of popular rural architecture. Today, Duce is a settlement that consists of two parts: the modern touristic one, located by the Adriatic sea and the ancient, rural one, located in the foot of the Mosor mountain.
Just 50 years ago, Duce was inhabited by only several families, with surnames: Vojnović, Škarica, Čepić, Bilanović, Škobalj and Želalić. Most of the inhabitants were farmers, sailors, fishermen, and industrial workers in nearby factory in Dugi Rat, which now closed. Modern day Duće in fact has evolved from 6 old settlements: Duce Luka, Duce Rogac, Duce Vavlje, Duce Golubinka, Duce Glavica and Duce Docine. During last 50 years, with the development of tourism, these villages became interconnected, and today there are no visible boundaries between them. Today's Duce is a stream of holiday houses spreading along the main road and 5 kilometres long stream of shallow sandy beaches, with approximately 2000 inhabitants.
Duce is famous for its 5 kilometres long series of beautiful sandy beaches, that make it perfect destination for families with small children and young people that are looking for fun. Many restaurants and cafe bars and the vicinity of the towns Omis and Split guarantee you unforgettable holidays, not just sunbathing ad swimming in the crystal clear Adriatic sea. The long and successful tradition of tourism in Duce and the offer of quality accommodation facilities are the guarantees of an unforgettable holiday in Duce. During the last several years, Duce continues to develop it tourism infrastructure and to improve tourist offer, with several newly built smaller hotels, excellent beach bar in Duce Golubinka and many newly renovated private houses that offer excellent and affordable accommodation in apartments and rooms. Thanks to excellent traffic connections with nearby Split and Omis, Duce is excellent holiday destination not only for families with children, but also for visitors who want to explore rich cultural heritage and natural beauties of the central Dalmatia.
Trips in surroundings of Dugi Rat are organized to the old villages in the foot of Mt Mošnjica such as: Staro Duce, Zeljovici, Krug and Staro Jesenice where there are about 300 nice old preserved stone houses. All of these villages follow the same pattern; they all have streets, roads, small squares, centres that are mostly in the vicinity of the church or school, and fileds. Surrounded by luxuriant vegetation, far from the city noise or any industry whatsoever, enjoying non-polluted air, mild climate and above all a magnificent view of the sea and islands (Brac, Hvar, Solta), they are something that every tourist will be impressed by at first sight.