After the town of Omis, Pisak is surely the most beautiful place on the entire Omis riviera, not just because of its beautiful beaches, historical heritage and perfect location, but also because of very good tourist offer. There are several restaurants in Pisak, located just few metres from the sea, in the port. These restaurants are well known not only in Pisak but also to tourists from other places on Omis riviera and Makarska riviera. These restaurants are surely an important reason why so many tourists visit Pisak each year; opened from May to October, they offer an unique experience of excellent food, prepared with love and served in beautiful romantic scenery of a small, picturesque Mediterranean port.
Since ancient times Pisak has always been the settlement of fishermen, and this tradition is still alive, we recommend that you try some of the local fish dishes, which are prepared with locally caught, fresh fish. Pisak is surrounded by olive plantations, and the nearest olive mill is in nearby village of Marusici - these restaurants offer their guests locally produced olive oil, which accompanies beautifully fresh fish and locally grown vegetables. Being far from the rush of the modern tourists resorts and mass tourism, these family run restaurants do their best to treat every guest with special attention, inviting them to come to Pisak and their premises again, year after year.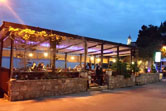 Konoba Leut in Pisak, Croatia
Konoba Leut in Pisak is a traditional, family run restaurant situated in the port, just few metres from the sea. In fact, the terrace of the restaurant is located on wooden pillars just above the sea. The interior of the restaurant is furnished in very nice traditional style, with many items and tools from the past that are not in use anymore, but the owner put them on a display to his guests and created a small ethnological collection. The owner, Mr. Zeljko is the expert on the outside grill, where he prepares fresh fish and meat, and the master chef in the cuisine is his wife, Mrs. Andrijana. Together with their children, and very polite and friendly staff, they made this small restaurant to be one of the best and most beloved places on the entire Omis riviera.