Experience a real adventure in the canyon of the Cetina river, which is due to its wilderness, its rearing and timelessness called the river Horse, and enjoy the hidden beauty of its canyon, which can be till 120 m deep.
Explore the 40 m high waterfall "Gubavica" and have a swim in it, without being afraid, because you're led by people who were born by the canyon and who have spent their whole life there. They know all the charms and dangers, hiding in the canyon.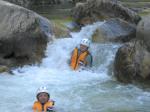 Visit the deserted Diablo home? Lake placed high in the mountains "Crni kotao". Enjoy the marvelous relief of the cut rocks and astonishing play of water and stone, which keeps happening all the time.It's necessary to take your bathing suit with you, as well as sports shoes and a towel and clothes you are going to wear after canyoning.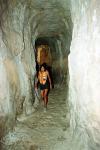 We provide the full canyoning equipment - waistcoats, helmets, neoprene, etc. Don't forget to take your widely open heart for incidental adventures. Picnic with homemade food and drinks is included.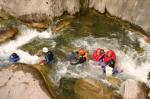 The trip lasts 3 to 4 hours.
If wished:
Getting down with a rope, caving method.If ordered, it is possible to organize a dinner in a local wine-cellar with home-made wine and gastronomical specialities of the ancient Principality of Poljica.