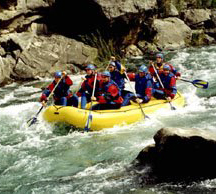 Omis is an ideal place to plan a recreational weekend. Regardless of your sporting preferences, whether it be diving, wind-surfing, rafting or kayaking (on still-water or rapids), hiking, rock-climbing, hang- or paragliding, cycling or boating, this former refuge of pirates and buccaneers offers all of this on a background of exquisite natural beauty.
Rock Climbing
According to seasoned European rock climbers, Omiš may soon become the principle meeting place not only for Croatian, but European rock climbers in general: "the Croatian Chamoneix." Omis now has a total of 46 equipped recreational courses, placing it among the top Croatian climbing sites. But this is only a scratch on the surface of the town's cliffs, whose potential is about a hundred times greater. Both seasoned European rock-climbers and members of the Malduk Club say Omis will soon become not only a Croatian, but a general European climbing center.
Rafting and Kayaking
A raft or kayak ride down the Cetina River from Cikotina Lada to Blato (10 km) lasts about three to four hours. But for those with more skill, not to mention courage, we recommend the section from Blato to Zadvarje, which can only be traversed by kayak. This section is also about 10 km long, and it takes about the same time, but the landscape as you pass through a narrow and high canyon is much more beautiful, but also quite dangerous at places.
Hiking
If you're afraid of climbing along vertical cliff walls, but like hiking, we recommend two possibilities. For those whose physical condition may leave something to be desired, there is the Omiš-Baucici trail to Stari Grad (the old fortress). It takes about an hour to complete, while the way down to Planovo is an additional twenty minutes. You can enjoy an excellent view of Omiš, the Cetina canyon and the central Dalmatian islands. For tougher hikers, we recommend the Omiš-Cecurci-Imber trail (90 minutes). Here at the source and shelter you'll meet local hikers who can tell you where to go from there. We also recommend returning on the other side, through Podašpilje to the Cetina canyon.
Cycling
Bicyclists are most fond the of the road through the Cetina canyon, which goes from Omiš to Radmanove Mlinice. Those who are better prepared can take the route from Omiš to Radmanove Mlinice, Kucici, Zadvarje, Šestanovac, Blato and Gata and then return along the other bank of the river (60 km).
Paragliding
Paragliders and hang-gliders have also found their place in Omiš, where some sort of wind is always blowing. The starting point is a grassy slope at an elevation of 380 meters on the Omiš fork of the Dinaric mountains, a ten minute walk from the village of Cecuci. The most frequent and safest landing site is the town beach. Paragliders often stay aloft for two to three hours.
Diving
However, if you have the courage to engage in an exploration of the mysteries of the deep, the Omis Diving Clubs offer courses for intrepid beginner divers. Depending on the level of diving experience, they even offer night-time dives. Divers can go to depths of fifteen meters in the Cetina canyon. There they can see the remains of David's Bridge and Mostina, a former stone embankment made by the local pirates to ground enemy ships. In the nearby sea, the wreck of a former merchant ship lies at a depth of twenty meters. The diverse sea coast also offers underwater caves and overhangs, as well as diverse plant and animal life. At a depth of thirty meters you can tour ancient sites — the last resting ground of ancient amphorae. Vruja is a symbol of the sea's endlessness, and as such it entices all veteran divers. This undersea abyss has numerous lovely caves, which have only been explored to depths of about one hundred meters.
Regardless of your recreational preferences, equipment or buying power, a weekend in Omiš will not be soon forgotten.
Find out more about Omis Active Holidays: